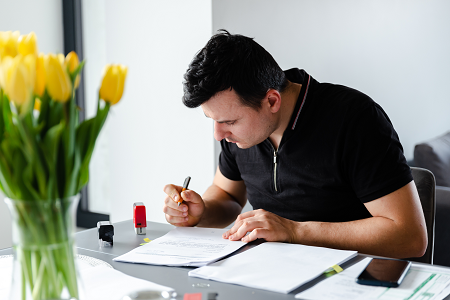 If you have experienced damage to your home, it can be an incredibly stressful time and you may not be sure of the best steps to take. We have spoken to one of our Arachas Home Insurance experts who gives their advice on how to make a claim on your home insurance.
1. Does Your Insurance Cover Emergency Home Assistance?
Firstly, check and see if your home insurance provider offers emergency home assistance. This is an excellent benefit that can assist you in taking preventative measures, so no further damage is done. For example, if you experience storm damage and need the property boarded up to prevent additional losses or if you have a leak and you need the assistance of a plumber to stem the leak to minimize the damage.
Arachas work with several home insurance providers who provide this excellent additional benefit. These providers will typically have a list of qualified tradesmen that will assist in taking actions that will prevent further loss and secure your home.
2. Reach Out to Your Insurer Beforehand in Relation to Claims
It is very important that in the event of a claim you reach out to your insurer or broker to find out what you should do. If you proceed to get something repaired before contacting your insurer, you may not be covered for the work that has been completed. Taking emergency measures to prevent further loss is always recommended but this should be done in consultation with your insurer where possible.
3. Take Detailed Photos
When you first find out that damage to your home has occurred it is important to immediately take photos of the damage and do not dispose of any items.
4. Contact Garda Immediately in An Attempt of Burglary
If your property has been burgled or an attempted theft has taken place it is important that you contact the Gardai and file a report as your insurance company will require this step to be taken.
When you reach out to your home insurance provider, they will initially assess the damage and may ask you to complete a claims form process and share pictures with them. Depending on the type and value of the claim, the insurer may be able to complete a desk review and settle the claim for you without the need for a site visit. If this cannot be done the insurer will send a loss adjuster/loss assessor out to review the property and assess the damage.
5. In Case of Severe Damage to Your Property
If you experience a total loss of the property or severe damage that renders the property uninhabitable, one of the most important benefits on your home insurance, you can have is Temporary Alternative Accommodation. This is typically up to the value of 10% of the buildings sum insured and this will cover the cost of alternative accommodation until your property is livable again. If you have experienced a large loss it may take several months for your property to be repaired so it is vital that you ensure your insurance cover has suitable Alternative Accommodation included.
When deciding if you are going to make a claim there are several points to consider:
What Does My Home Insurance Not Cover?
If something is broken or damaged due to typical day to day use, then this would not be covered under your home insurance. If you have cracked old tiles, decaying pipework, broken appliances or fabrics worn by everyday use then there will be no cover in place. Most policies will have an in-occupancy clause that kicks in after a set period of typically 30 days but can be shorter with some providers. In an instance where this in-occupancy clause kicks in the level of cover is dramatically reduced. If your home was unoccupied for the period when the incident took place you may not be covered.
What is the Expected Value of My Claim?
If I claim will this impact the premium I pay going forward? When you take out a home insurance policy you are given a discount based on the number of claims free years you have had on a home insurance policy. This discount can account for a significant portion of your home insurance premium. If you make a claim you will no longer be entitled to this discount.
If you have found a leak in your bathroom which has caused €600 worth of damage you will need to find out what your escape of water excess is. If the excess is higher than the value of your claim you won't be able to submit a claim for the damage. It's important that when you are purchasing your home insurance that you check to make sure you have appropriate excesses in place that meet your needs.
Talk to one of our home insurance experts on 01 582 7108 to assist you with this.
Have you met the Conditions of your Home Insurance Policy?
If you have a holiday home insured, there will be specific conditions that you must adhere to, these include getting the property checked regularly by a responsible person along with at times turning off the water and draining tanks when the property is unoccupied. If you have a flat felt roof there will typically be an inspection clause that states, you must have the felt portion of the roof reviewed every 3-5 years and repairs made when needed. If there is a claim made and the conditions of the policy have not been met it is unlikely any cover will be in place for that particular claim.