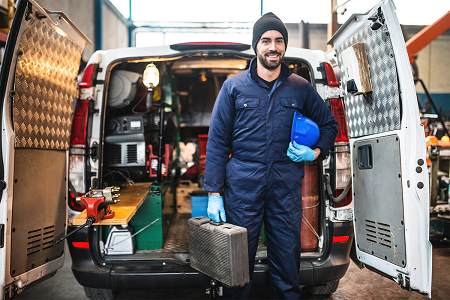 Are you in the market for a used van but are worried about the potential insurance cost to your business. Here are 5 simple tips from Arachas to help Irish business owners get the best deal on their van insurance cover.
1) Size of the Van Matters
The size of a van and it's carrying capacity has a serious impact on the cost of your insurance so consider how big a van you actually need. If you are only going to be using the van for small jobs that could be done with a Volkswagen Caddy, don't get tempted by that high roof Ford Transit!
Keep the spec as simple as you can too, vans with mechanical grabs and lifts attached can prove difficult and costly to insure. Bottom line is: if you don't need it, don't buy it!
2) Nature of Van Use - Business or Pleasure?
One area that often causes confusion with van owners is the nature of their use of the vehicle. Do you use the van just to drive to work on a site and carry your tools? That's fine! Many insurers insist that a van is used for a commercial purpose connected to your employment.
Have a van to bring your dogs to the beach or carry sports equipment? That's ok too. We are now working with insurers that will provide a quote on vans for personal use. Unfortunately, if you are using the van for work as a courier we aren't currently able to offer you a quote.  
3) Don't Go Vintage
There can be some great deals out there on older vans but it is crucial to remember that anything over 15 years old is going to be very difficult to get a quote for. It might look a steal of a price now but if you can't get a quote, it's not going to do you much good!
4) No Claims, No Problem
Did you know that with Arachas if you already have a no claims bonus from your own private car insurance, you can get discounts on your van quote? We work with insurers that even allow you to keep your no claims bonus on your car while getting discounts on your van policy. Even if you only have named driver experience on a policy we can get you a discount.  
5) Talk to Insurance Companies/Brokers Before you Buy
 Before you shake hands on your new purchase and get the keys, check the insurance cost of the exact make and model you are about to buy. Two vans that look very similar can often have significant differences in cost. The insurer takes lots of things into account like the carrying capacity, engine size, year, height, age and weight of the van & thus talking to such companies/brokers will only help you know more & reduce your insurance premium. If you feel you need help with a van insurance quote, get in touch & we can offer you and affordable van insurance policy from our 'A' rated insurance providers. Alternatively, you can also checkout our van quotes online to give you a competitive deal!
It's quick and easy to get a quote online for a van with Arachas or you can call one of our team members on 01 582 7108 who will be happy to help!