To view our list of homegrown shops offering online services or click and collect options
Ireland has a long history of overcoming the worst of times; through our personal resilience, our care for each other, and our community spirit, we have shown that we will succeed time after time.
So much is being asked of us all; it is not an easy time for anyone, but each of us has the power to do the right thing and mind each other through this.
Many of our friends, family, neighbours and acquaintances are facing the toughest road as restrictions take a hard toll on the businesses they own or work for.
Based on the concept of Meitheal, a long-standing Irish tradition of working together as a community to look out for each other, Arachas is standing behind Irish retailers across the country by reminding our employees, our customers and our wider network of followers, of the urgent need to shop locally and with Irish businesses.
It is a staggering statistic that 70% of online sales in Ireland are spent abroad. Think what a difference it can make for Irish jobs and our economy if the scales were weighted in favour of spending this money in Ireland, especially over the coming weeks as people think of Christmas gifting.
Arachas invites Irish retailers across the country to add your name to our list of homegrown shops offering online services or click and collect options. We in turn will add this list to our website and spread the word on your behalf to help increase exposure and support Irish businesses through this difficult time.
If your business would like to be included in this listing please send your details to marketing@arachas.ie and include the following information:
Your business name

The town or county where the business is located

Type of shop – e.g. clothing, accessories, giftware, jewellery, footwear, bookshop etc.

Website or social media URL
We can all play our part in looking out for Irish jobs, homegrown businesses and making sure our local towns and cities have the best chance to thrive when doors can open again. Small changes in how we shop and what we choose to buy now will make a big difference in helping this to happen.
Before you click or tap, choose your community first, think Irish and think local! Check out our guide below to supporting Irish & Local.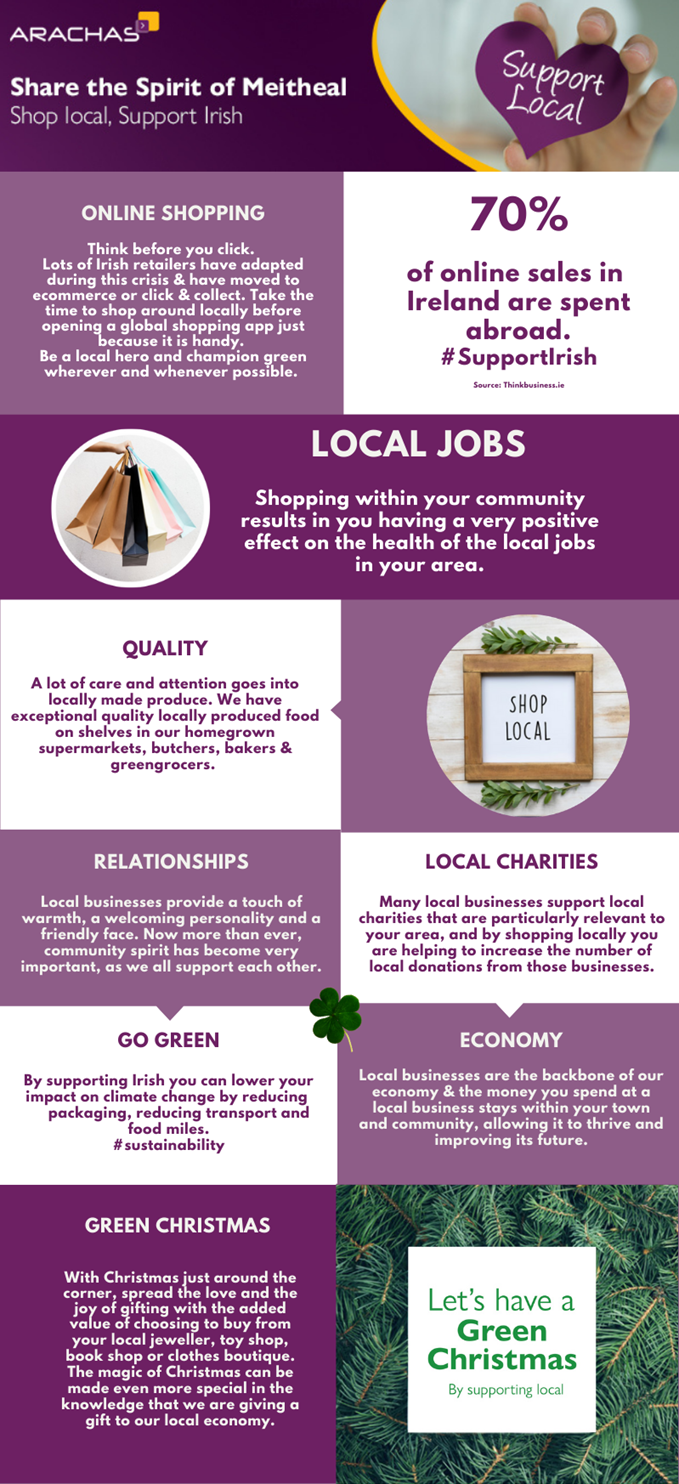 Happy shopping & stay safe and well!